Biography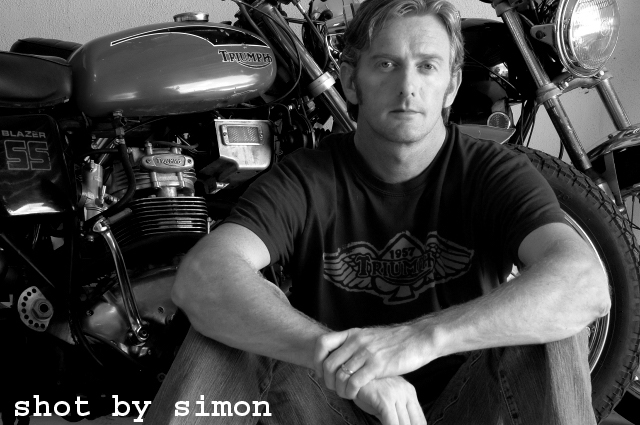 Iím a proud graduate of Saint Martins School of Art, in London. Although I did abandon my creativity for a few years, I finally rediscovered it -with a motorcycle ride.
This particular ride was at the invitation of some bike magazine road-testers who were a man down. At the time, I was simply a logical, convenient choice for them. Partially because I was easily reachable, being a marketing guy within their industry and partly "just coz I could ride a bike".
Anyway, the road test and resulting magazine story were great fun, so I looked for ways to do it again. Having easy access to some famous racers, I interviewed them for the bike magazines. It worked. The editors always seemed happy to publish the features I created for them, so I just kept on going.
For a combination of several reasons, many years ago I decided to turn Ďthisí into my full-time occupation. So what exactly is ďthisĒ?
Well, sometimes Iím a writer. As an example, I was previously asked to update ĎThe Complete Idiots Guide to Motorcyclesí. I took the work, thoroughly enjoyed re-writing it and now Iím proud to have my name displayed on the cover of the current copy (4th Edition).
At other times, Iím primarily the projects photographer. There are several books, advertisements and magazine features out there carrying my name, but only because of the images I've supplied.
Finally, Iím just as happy to do both jobs -meaning Iíll wield the pen and lug the lens. Though from what I understand, this duality isnít so common. Nonetheless, Iíve always felt more than capable of wearing both name badges. So with books like ĎMuscle Car Dream Garagesí I was both author and photographer.
Now, I guess Iím either a writer or photographer (or both), who relishes the variety of work available within the realm of Ďenthusiast mediaí. This fun ride may have started with motorcycles, but Iím delighted that itís steadily diversified with time.
Iíve got a couple of new books due out very soon; one is about Hand-made Bicycles, the other is a secret for now. Of course there are other projects in the works, about totally different subjects again, but more about those at a later date.
In the meantime, Iíve changed this website around recently. As the most relevant information for people in my line of work, is on the tear-sheets page, you should give that tab a click. Just remember, the best stuff is always whatís due out next.
Thanks for stopping by,
Simon.
For my contact info click here.